Thursday Night Livestream
Now What? Finding Peace in the New Normal
In this uplifting class, Gen Gomlam will explain each week how we can develop a realistic sense of optimism and offer advice on how to live with hope, resilience, and vision in an uncertain world.
We may feel that we have no choice but to become overwhelmed or disheartened when we meet with difficult circumstances or prolonged uncertainty. Buddha teaches that each and every one of us has the potential to be deeply happy and peaceful no matter what occurs.
Text for the class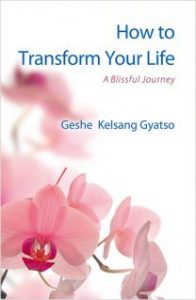 This class will be taught from the book, How to Transform Your Life, which is available as a free ebook which can be downloaded from this link. You do not have to read the book in order to benefit from class, but it can enhance your learning experience.
Registration Details
Cost: $10 per class; free for Members and Benefactors!
Free for Members and Benefactors: With your membership or trial membership, you will receive all links to regular events (excluding special events with visiting teachers or the Midwest Dharma Celebration, which require separate registration).
Please review our terms and conditions before registering. Here are some helpful tips for getting the most benefit from our livestream classes.